Lloys
FEBRUARY 2018

Well, we've been working on a new project as well as keeping the ship steady here at The Old Rectory.

We purchased a property nearby recently and as of February 12th have begun to bring the old 1879 building back to life.

It belonged to a dear friend who passed away a number of years ago. We've had many good times in that house and want to honour Lloys memory by making sure she would be happy to see her home regain the dignity it's due.

Opening is expected early summer with 2 self catered & contained units each with it's own kitchen, sitting area and parking.
L2~ 1 King bedroom. You will have the option of adding another Queen bedroom sharing the large bathroom between you.
$270 plus tax for the King bedroom for 2 guests max or $370 for both rooms for up to 4 guests max.
L1~1 Queen bedroom ensuite.
$270 plus tax for up to 2 guests.

Please call for rates on longer stays off season (4-8 months, self catered/fully furnished/utilities included)


Each apartment comes with sitting area and kitchen on the ground floor. The bedrooms are upstairs.
You can expect high speed internet, cable tv and access to the garden and porches.


The new location is 3 minute walk from our B&B (250m/yds) and only
a 4 minute-350 m/yd walk to the 'new' Tom Patterson Theatre which starts construction in March of this year. We've drawn a lot of inspiration from the new TPT as you might imagine. Life is exciting in this part of town.
Staircase for 94
Original doors to be restored & reused
We don't have the reservation system set yet for Lloys, but expect that sometime in March. We are happy to discuss options by phone if you are interested.
Work on the house is ongoing. As it stands we are working on installing new roof shingles. The exterior walls are getting insulated and new skim coat before painting.
Original trim
Bedroom duct covers
The floors will get a new lease on life , some have to be removed but thanks to the new bathrooms we have enough boards to recycle back into the mix. Expect refinished mostly original hardwood floors throughout.
All the trim has been saved and as you can see it needs some TLC. Removing the old nails, sanding and patching in holes will take place next week before we can install again.
Heating and cooling gets the update too-we're scared to see that quote! We are NOT cuting corners, excuse the pun-City of Stratford are guiding & inspecting the work as your safety and wellbeing is paramount.
Moving on we have spent many months trying to figure out best layout for rooms and kitchen. We think you'll like how we've organized the kitchens.
Lighting fixtures will be a mix of old and new as will door hardware etc. There's always the battle of new versus old, we will do our best to keep the feel of an older home yet the functionality of the new.
MARCH UPDATE 2018
Our antique electrical lights needed a rewiring before reinstalling (Thanks Michael). Some have been donated by our friends who act at the Festival Theatre and others already belonged to the B&B or Lloys. We are very pleased to give them at bright start again.
We took out ALL the old wiring in the home and had it it properly recycled. Electrical inspection #1 has taken place, so far so good!
Insulating the walls before & after Building inspections. This home will be running efficiently with regards to heat or cold loss. Think cozy, cozy, cozy-and quiet!
We're also up to our elbows in new plumbing.
A swatch or two as we try to keep a flow through the house. This is not the look of The Old Rectory, but same if not improved comfort!
We're looking at re-tiling the entrance area, practical yet inviting.
Roof has now been replaced as I update this page so we are nice and dry.
JUNE 2108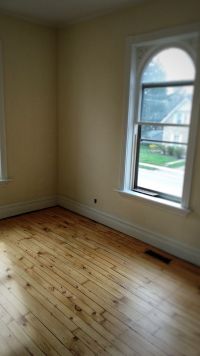 Refinished the original floors of the 1879 home and a new exterior paint job.
New shower and heated bathroom floor-almost there.

We hope you will join us in welcoming Lloys house to the fold.
2018 Season Playbill

SHAKESPEARE
The Tempest
Directed by Antoni Cimolino
Festival Theatre
Coriolanus
Directed by Robert Lepage
Avon Theatre
Julius Caesar
Directed by Scott Wentworth
Festival Theatre
The Comedy of Errors
Directed by Keira Loughran
Studio Theatre (tentative)


MUSICALS
The Music Man
Directed and Choreographed by Donna Feore
Festival Theatre
The Rocky Horror Show
Directed and Choreographed by Donna Feore
Avon Theatre


MODERN CLASSICS
To Kill a Mockingbird
Directed by Nigel Shawn Williams
Festival Theatre
Long Day's Journey Into Night
Directed by Miles Potter
Studio Theatre (tentative)
An Ideal Husband
Directed by Lezlie Wade
Avon Theatre
Napoli Milionaria
Directed by Antoni Cimolino
Avon Theatre (tentative)


WORLD PREMIÈRES
Brontë: The World Without
Directed by Vanessa Porteous
Studio Theatre
Paradise Lost
Directed by Jackie Maxwell
Studio Theatre
Full 2018 details at Festival website